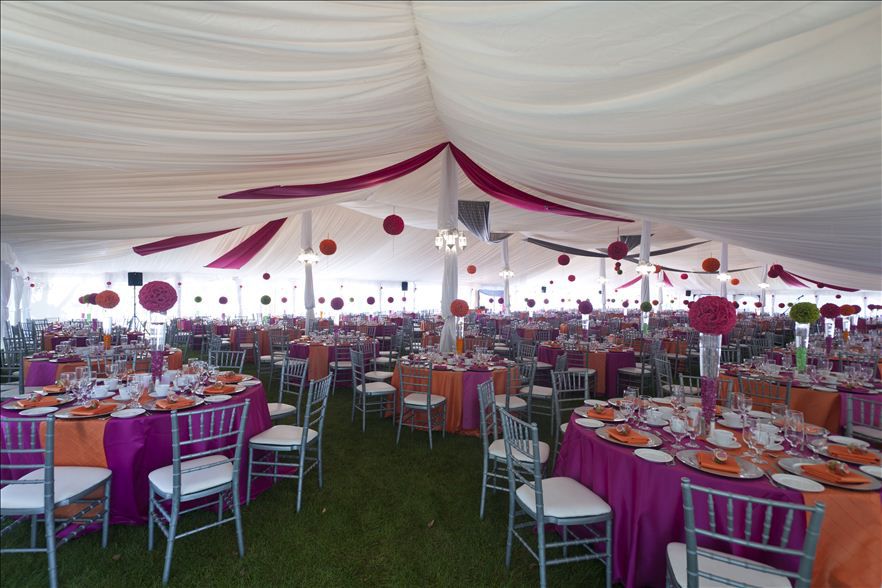 Our staff Roy-Al Rentals will try their best to ease some of the stress that comes with planning an event. Be it a dinner party for twelve or a wedding for two hundred we aim to use our expertise to make the process of planning an event fun and as stress-free as possible.
Customers are encouraged to visit our showroom at 74 Dawson Road in Guelph. We try to keep a sample of our rental items on display or can be picked from our warehouse for viewing. If that is not possible, we can often offer a picture of the items for our customers viewing. We often find this makes for an easier decision if you have seen the rental items firsthand. We carry various types of tables and chairs, dishware, flatware, glassware, linen, lighting, tents and so much more.
One of our staff will take the time to show you options when you visit our showroom. No appointment is necessary, and you are not obligated to place an order at that time. It really does make the decision easier when our options are before you. Sometimes sitting in a couple of chairs or picking up that flatware setting really does make a difference to the choices you make. Plus, there will be no surprises when you receive your rental items from us and they are not what you had envisioned! If you are considering a tent with our company, a trip into the showroom is advised. No one wants to find out they don't have room for the head table in their tent! We can help you determine the size of tent that will best suit your needs, and accommodate your function. We understand our customers lead busy lives and not everyone can make it to our showroom. That's okay, you will still get the same expert advice and practical suggestions whether in store or over the phone. You can view our items and make your selections online at your leisure.
Some of our customers know what they want from the start and need very little guidance from us. Other will have a file a few inches thick by the time their event rolls around. We don't mind if we talk to customers 100 times before the event…no call is too trivial… our job is to help our customers plan their events. Here at Roy-Al Rentals the word "standard" doesn't exist. We know first-hand no two customers are the same and everyone is looking for something different and unique. With our extensive inventory we work hard with our customers to personalize each of their orders, giving it their own sense of flair and making their dream event come to life!
You will not be hit with a pushy sales pitch when you contact us. Our staff can give you information regarding price and availability of our rental items. If you are not ready to book at that time, but would like an idea of the total cost our staff can create a quote for you based on products you have selected. You can also place an order with us if you wish. A 50% non-refundable deposit is required to place a booking with us and at that time you will be given a print out of what you have ordered with us for your records.
Coordinating an event is time consuming and stressful. At ROY-AL RENTALS we hope our expertise can take some of the pressure off of you and make renting a fun experience. It's never too early to start planning, and a trip into our showroom will show you the many possibilities available to help make your event one to remember!