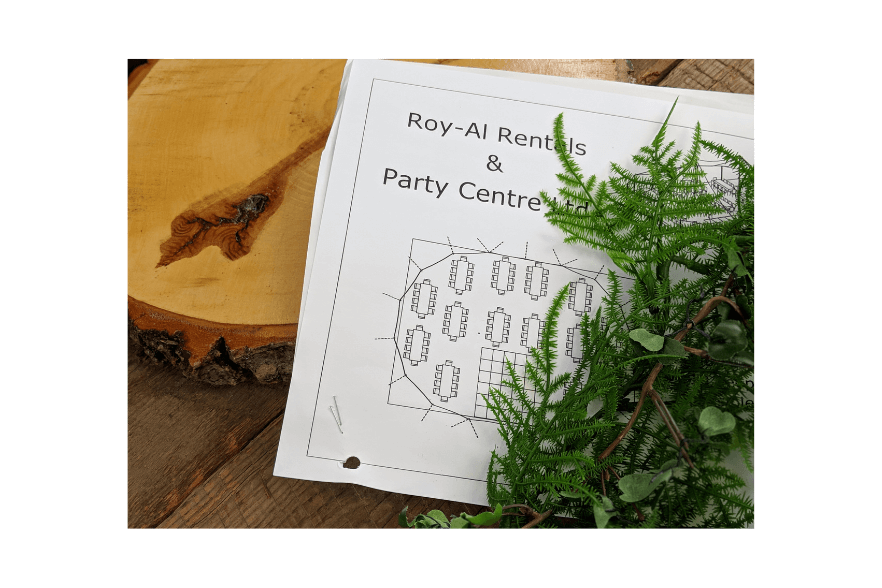 With the New Year brings our next wave of weddings for the 2019 season. Calls are being made, research is being done and pictures are being pinned!

With more than 40 years of experience in the tent and party rental industry, we've noticed a trend this year that has us a bit concerned. With so many vendors to choose from, new one's emerging every season…everyone's quotes look a little different. It's that apples to apples discussion isn't it?!
Take our specialty—tents… Several couples have received quotes from companies where
the quoted tent capacity and the given diagrams don't coincide. When we've sat down to talk to our brides and grooms and looked at diagrams and capacity, it seems there are a few impractical recommendations out there.
The facts:
5ft (60") round tables are the best use of space in most tents. They take about 10sq ft of space when you factor in chairs and your guests moving between the tables.
8 people sit at a 5ft round comfortably. Can you put up to 10? Sure, but the table top will look a bit more crowded than that elegant spread in your bridal magazine. Depending on how much space your guests need, they may be elbow to elbow and knee to knee (I hope it's not 40 degrees!)
It's possible to put tables on the dancefloor during the meal if necessary. Just remember to plan for the removal of these tables before dancing begins (whose job will it be and where are they moving the tables and all associated items to)
While we're at it—watch the size of linens you're being quoted. Can you see table legs in all those pictures you have on your wedding board? It may be worth taking a second look at the table linen size you've been quoted. While other sizes are available, a 120" round linen is the most common to achieve that perfect look.
So what can you do?
Pull out the quotes you've got and look at your items. Do the tents have the same square footage or is one forcing you to crowd your guests? Does one company charge for walls and the other doesn't? This comparison extends to everything on your list—are the linens the same size? Do both chairs have padded seats? What quality of dishware have you got? Ask questions, visit the showrooms and see the products that will be part of your big day!
What will we leave you with?
If it rains, will you and your guests be comfortable? Plan for rain—just in case. If it rains and your guests are packed in there like sardines, they may be likely to call it an early night. Nowhere to move, too much trouble to mingle—friends and family may head for home.