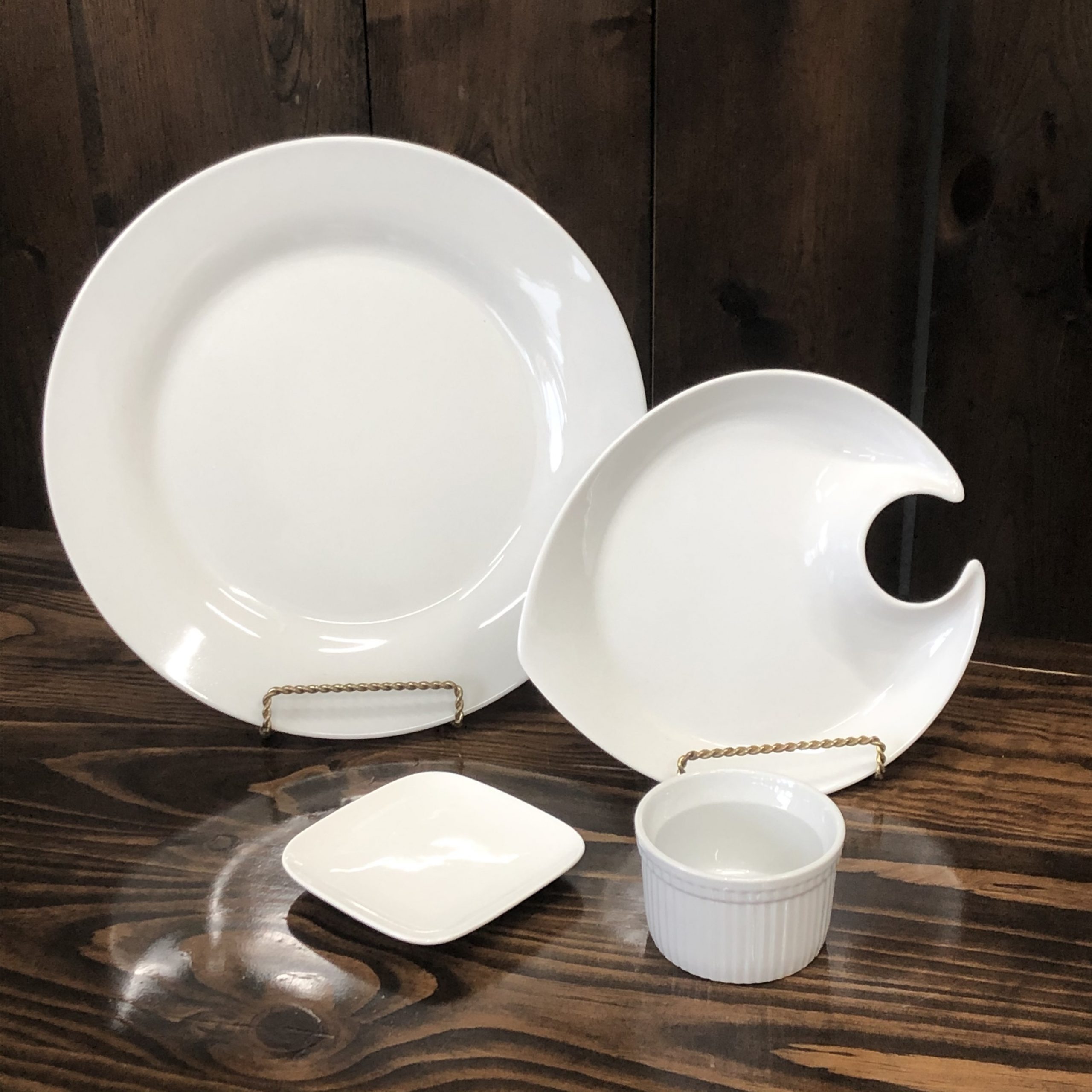 Assorted Dishware & Accessories
Cocktail Plate: This may be one of the handiest things you've ever seen. This white china cocktail plate has a notch to hold a wineglass. Now your guests have a free hand. Don't you wish you had of thought of this years ago?!
Cocktail Caddy: Before the cocktail plate, this was handiest little thing you had ever seen! Slide this little clip onto a plate and now your wine glass will rest in that hook. Great accessory for cocktail parties.
4.5" Square Plate: The perfect little plate for stations, nibbles or just a small bite! These square plates are 4.5″, making them easy to hang on to as you chat and mingle.
Rectangular Plate: This trendy rectangular plate is perfect for plating individual apps or desserts. 11″ x 5″ in size, it's just the right size!
Asian Spoons: Get creative with our white ceramic Asian spoons. Perfect for an individual nibble! These present nicely on our 11″ x 5″ rectangular plates.
Ramekins: We have three sizes of ramekins to choose from. 4.5″ dia x 1.5″h , 3.5″dia x 2.25″h  or 2.5″dia x 1.5″h. Serve extra dips, sauces or puddings. These bowls are rented by the dozen.
Sundae & Parfait Dishes: Bring a touch of nostalgia with our clear glass sundae dishes and narrower (4.5 oz) parfait glasses. Perfect for a sundae bar–all you need is a cherry on top!
Charger Plates: Create beautiful tables with our resin charger plates. Available in red, gold and silver these can finish the look of the table when you are having a plated meal. Also popular around the holidays! Create a Pinterest-worthy table when you pair our Gold Elegance cutlery and our gold chargers!
Porcelain Dinner Plates: These porcelain dinner plates are a simple 12″ off white. They were brought in for those looking for an oversize dinner plate. Perfect for steak and corn on the cob! These also work nicely as a charger with the colourful patterns found in our Vintage China.
All of these pieces are rented by the dozen.