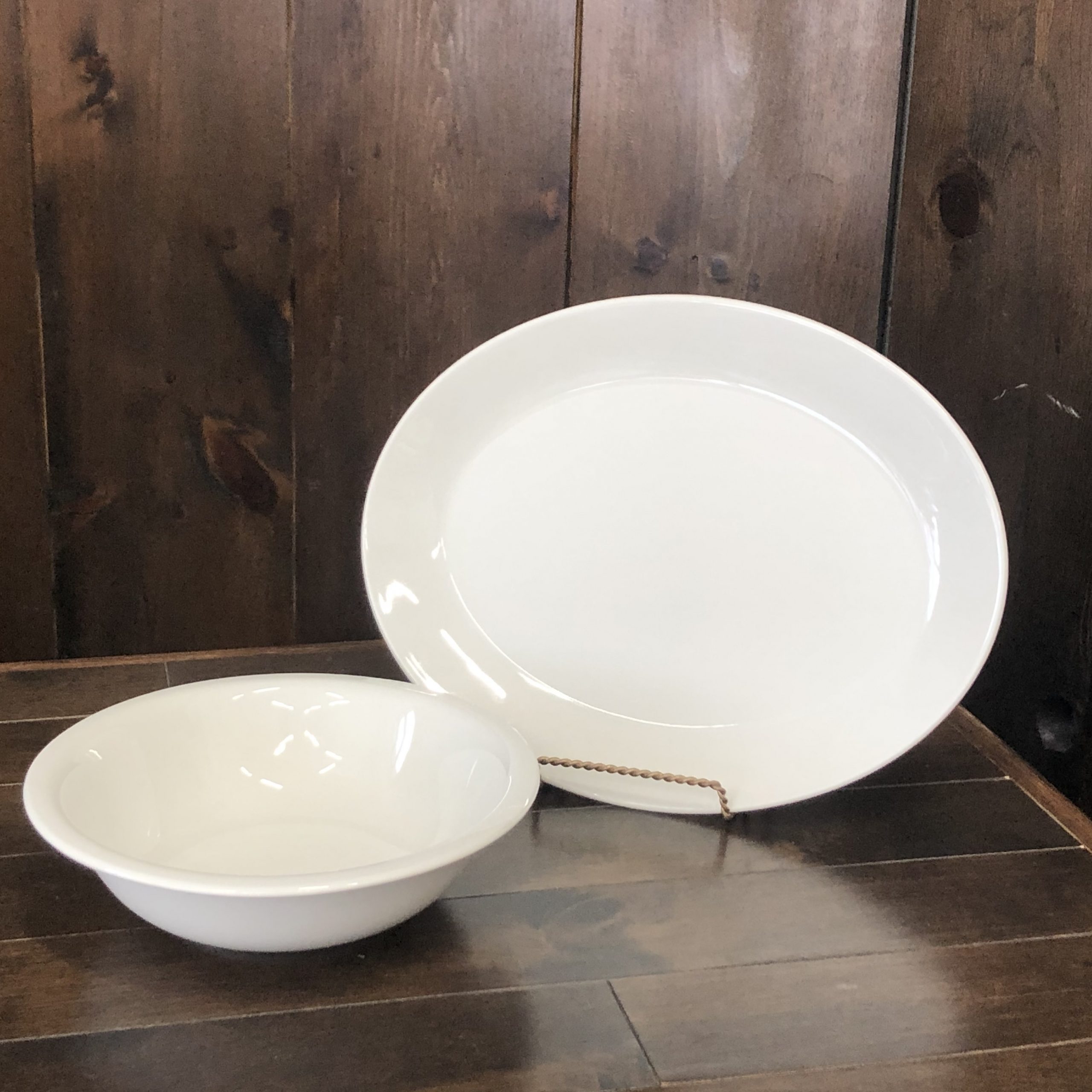 Serving Bowls & Meat Platters
Simple White Meat Platter & Bowls: Off white meat platters and serving bowls, no design or embellishment on this stoneware.
Noritake Meat Platters & Bowls: These items featuring the thin gold band complement our Noritake dishware setting.
Clear White Meat Platters & Bowls: Although these pieces don't have the distinctive grooves around the rim of the Arctic White dishware, they complement that setting quite nicely. The stark white of the china of the oval bowls and platters will allow your food to be the focus!
White Stoneware Meat Platters & Bowls: These oval stoneware platters will have your family service rolling efficiently!
Porcelain Rectangular Platters: Perfect for setting out a spread! Our porcelain rectangular platters are available in a 15″ 10.5″ and 16″ x 12″.
Square Serving Bowls: These square 12.25″ porcelain serving bowls are the perfect addition to your table.
Scoop Serving Bowls: A fun addition to your serving tables or family style service! We affectionately refer to them as "scoop" bowls. These are available in two sizes; 8″ x 6h" or 9.5″ x 7″h.
Glass Fleur Bowls: Clear glass serving bowls available in three sizes 7″, 9″ and 10 1/2″ diameter. Perfect for salad or condiments.
Stainless Steel Bowls & Platters: Lightweight 18″ or 21″ stainless steel oval trays are perfect for serving family style. Stainless steel bowls available in two sizes; 11″ and 13.″
Wooden Salad Bowls: These classic salad bowls are available in a 6″, 10″ or 16″ diameter. Please note the 6″ bowls are rented by the dozen, and suitable for an individual serving of salad.
Sub-Category:
Catering Supplies